Trap
Overview: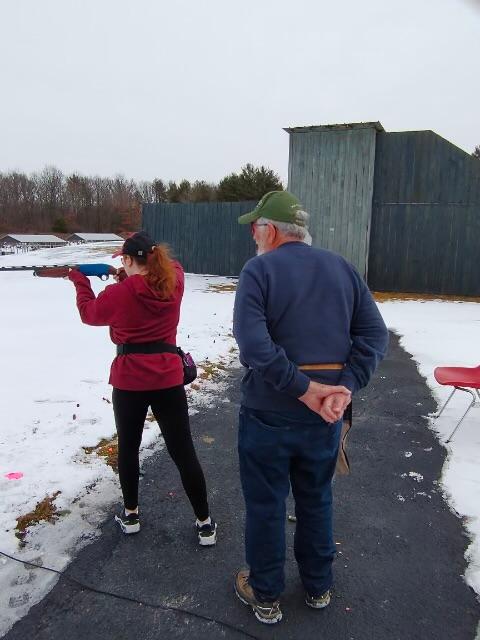 Trapshooting is one of the three major disciplines of competitive clay pigeon shooting (shotgun shooting at clay targets) and is intended to simulate scenarios encountered in bird hunting. Clay targets are mechanically launched at high speed from one house. The targets are often rising and going away at different angles. In contrast, skeet has more crossing targets and also some double targets. A round of trap is shot from 5 stations consisting of 5 shots from each station. A good resource on the sport can be found at https://en.wikipedia.org/wiki/Trap_shooting.
We have been having a good turn out and lots of fun with a wide variety of shooters, novice thru skilled, including many youth shooters. But we still need more! If we can get enough of a turn out, we will start a fun league beginning in early January to keep shooting interest up.
Facilities:
TCSA has 4 trap fields offering year-round shooting. Trap will be shooting 10-2 pm on Saturdays, thru the winter months. Last date of winter shooting will be Saturday, April 9th. Starting Wednesday, April 13th will begin the spring/summer schedule from 3 pm-7 pm.
The range is staffed during scheduled times and fully functional for open shooting. Please check the Club Calendar for confirmation that there are no specially scheduled events that would preclude the shotgun shoots. Come join us for some of the best shotgun shooting in New York State.
When there are no scheduled skeet or trap events, these ranges are open for members with their own traps and clay targets to use the fields for practice. Note: Usually there are many leftover unbroken targets on the ground available for use by members.
Equipment:
The shooter provides the shotgun and ammunition. Ammunition is available for purchase at $8.50 a box. Trap is typically shot with a 12 gauge shotgun. Smaller gauge firearms (e.g. 20 gauge) can be used. In addition, all of our firearm shooting activities require both eye and ear protection for the participants. For trap shooting, spectators are required to have eye and ear protection as well as shooters.
Instruction:
If you want to shoot any of the clay target games, but are hesitant to show up for open shooting, arrangements can be made for introductory lessons to aid in comfort on the shooting range. Lessons are also available to improve your wing shooting abilities.
Contacts:
For further information regarding the TCSA Trap program or to sign up for the League, please contact Dan Hungerford, Coordinator, at 607-321-4489 or email millwright152@aol.com.
Fee:
$4.00/round for adults, $2.00/round for kids 16 and under. League fees apply as noted above. Ammunition is available to purchase at $8.50 a box.
Upcoming Trap Events:
Grandad's Shoot Saturday, July 16th