NRA High Power Rifle

High Power Rifle Matches
Do you have an old (or new) military rifle? Do you already shoot trap or skeet, and are looking for more ways to enjoy your favorite outdoor pastime?
If you ever had an interest in shooting the rifle you, your father, your grandfather, or your great-grandfather carried in battle, check out one of the league matches. These matches will allow you to compete against yourself, and will allow you to see how you stack up against others shooting similar equipment.
There is a group of like-minded shooters that hold fun shoots throughout the warmer months here in CNY. This group is always looking for new shooters to try it once, or to stick around for the whole season. Like the old commercial used to say "Try it, you'll like it!" Distances range from 100 to 200 yards.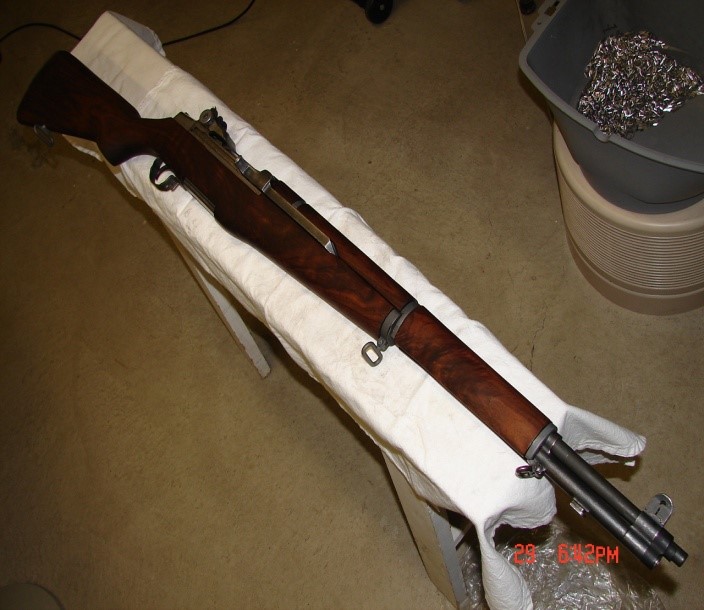 You don't need to shoot the "league", you can shoot one of the relays for fun.
WHAT: Any past or present military rifle, or you can shoot your favorite woodchuck/deer rifle, provided it is able to function safely. Max caliber is 35. Eye and ear protection are a must. Scopes or not, it's up to you! In addition, .22 rimfire rifles may be used.
HOW MUCH: $10 per relay (except M1 Clinics) with cost reductions for junior shooters
HOW MANY: Each relay may be 30, 50 or 80 rounds (supplied by the shooter for his/her rifle), plus sighters.
HOW DO I LEARN MORE?: There are 2 clinics scheduled in late March to cover the basics of high power matches, often called Three Position Matches. These positions are prone, seated and standing (off-hand). Or, you can check out the rule books for the NRA or CMP matches, at each respective organization's website.
AMMUNITION: Ammo is the responsibility of the competitor; any safe ammo may be used, however, AP, API, or tracer ammo is not allowed.
OTHER EQUIPMENT: A shooting mat is helpful, as are a spotting scope/binoculars, quality sling, shooting glove and shooting jacket. These items are not necessary, but will help make your experience more enjoyable.
For more information, contact James Brody of the Tioga County Sportsmen's Association at jebrody@yahoo.com or by phone at +1 607 765-2137.
WHERE: Because this is a traveling league, it will be shot at several local ranges. These are:
BCSA - Broome County Sportsmen's Assoc., Kirkwood NY
MSC – McGraw Sportsmen's Club, McGraw NY
RCKD – Rockdale Rod and Gun Club, Mt. Upton NY
SDS - Square Deal Sportsmen Inc., Maine NY
TCSA - Tioga County Sportsmen's Assoc., Owego NY
The schedule for 2023 is as follows:
2023 Chootin' Dates
May
5/6/23 – Rockdale
5/13/23 – Square Deal
5/14/23 – Camillus 300
5/20/2320 – Tioga
5/27/23 - McGraw
June
6/3/23 - Rockdale
6/10/23 – Square Deal
6/17/23 – Tioga
6/18/2318 – Camillus 300
6/24/23 - McGraw
July
7/1/23 – Square Deal
7/15/23 - McGraw
7/16/23 – Camillus 300
7/22/23 - Rockdale
August
8/12/23 – McGraw
8/13/23 – Camillus 300
8/19/23 – Square Deal
8/26/23 - Tioga
September
9/9/23 - Tioga
9/10/23 – Camillus 300
9/17/23 – Square Deal (Sunday)
October
10/7/23 – Square Deal