Cowboy Action
Introduction: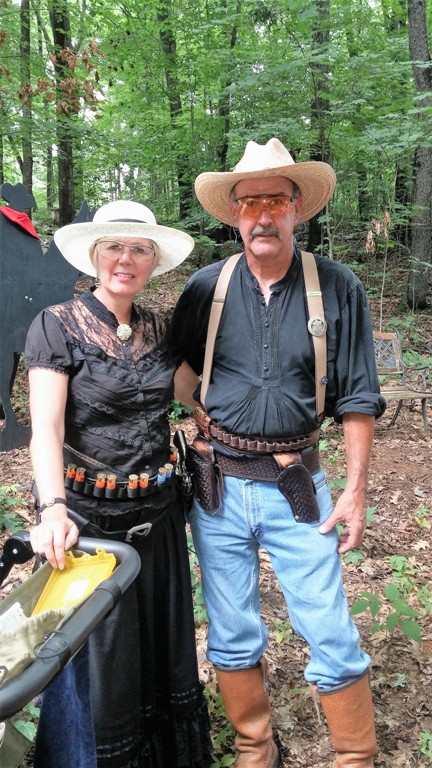 Cowboy Action Shooting is a multi-faceted shooting sport in which contestants compete with firearms typical of those used in the taming of the Old West; single action revolvers, pistol caliber lever action rifles, and old time shotguns. The shooting competition is staged in a unique, characterized, "Old West" style. It is a timed sport in which shooters compete for prestige on a course of different shooting stages. Shooters are assigned to a posse with a posse leader who explains the scenario and describes the Course of Fire. Each shooter in turn then shoots his/her pistol, rifle, and shotgun according to the Course of Fire hoping to hit all the targets as quickly as possible with no penalties. All shooters are members of the Single Action Shooting Society (SASS) and an NRA sanctioned Club. All SASS rules apply.
One of the unique aspects of SASS approved Cowboy Action Shooting™ is the requirement placed on costuming. Each participant is required to adopt a shooting alias appropriate to a character or profession of the late 19th century, a Hollywood western star, or an appropriate character from fiction. Their costume is then developed accordingly. More comprehensive information is available at http://www.sassnet.com/About-What-is-SASS-001A.php.
Our President is Duane Van Arkel, aka Dirty Dutch. The Treasurer is Vicki Compton aka Saddlebag Vic, and Match Director is Bub Compton aka Dusty Drifter. Scorekeeper is Vicki Compton.
Facilities:
TCSA accommodates Cowboy Action Shooting with cleverly constructed scenarios in the Pistol Pits.
Equipment:
Cowboy Action competitors shoot period-correct (pre-1899) guns (either originals or replicas). Examples: Single Action Revolvers, Lever Action Rifles, side-by Side Double Barrel Shotguns and Pre-1899 Pump or Lever Action Shotguns.
Instruction:
The group has a large number of cowboys/cowgirls who are willing to help with rules, regulations and encouragement.
Schedule:

Monthly shoot occurs on the 1st Saturday of the month; April through November, weather permitting. There may be some variations from this guideline, so please check TCSA's Calendar each month. If a match is canceled due to inclement weather, a cancellation notice will appear on the TSCA website homepage.
Registration for a match is 8:30 to 9:30 AM and shooting and after a salute to our Nation and a safety briefing, shooting commences at 10:00 AM. Participants will shoot five (5) stages.
Fee:
Fee is $10:00 for TCSA members and $12.00 for non-members. A home cooked meal is provided on regular shoot days and the fee for lunch is $7.00.
Out of state shooters:
Click (here) to download a copy of the CAS 2021 NRA sanction form that is required by New York State Penal Law 265.20(13) to show proof of attendance of organized shooting competition.
For the Showdown sanction form, see below.
Dusty Drifter at (607) 760-5746 (cell) or email him at d.drifter@yahoo.com.
Scores:
2021 Cowboy Scores
APRIL (No Shoot)
MAY
JUNE
JULY
AUGUST
OCTOBER
Clean Match
Clean Match
Clean Match
Clean Match
Clean Match
Clean Match
Match Final
Match Final
Match Final
Match Final
Match Final
Match Final
Match Final Extra
Match Final Extra
Match Final Extra
Match Final Extra
Match Final Extra
Match Final Extra
Scores by Category
Scores by Category
Scores by Category
Scores by Category
Scores by Category
Scores by Category
---
Shootout on the Susquehanna (Formerly known as the Showdown):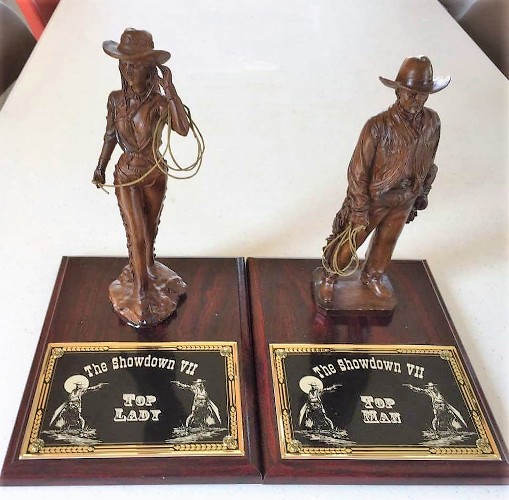 Dates: August 2022
Applications and more information to follow
Location: TCSA, 1141 Carmichael Road, Owego, NY 13827
Venue: All SASS rules apply and all categories will be honored.
Attire: Each participant is required to dress in SASS appropriate attire during all events.
Ammo: 110 rounds of pistol ammo (lead), 110 rounds of rifle ammo (lead) and 50+ shotgun rounds
Dry camping and vendor space is available. Please let us know if you desire either.
Catered dinner (All You Can Eat Bar-B-Que) Saturday night (included in registration fee). Breakfast and lunch available for a fee.
Lodging is available at local hotels. See list below.
Local Hotels:
OWEGO:
Red Roof Inn & Suites, 1100 State Route 17C, 607-687-4500
Holiday Inn Express, 20 Hickory Park Road, 888-465-4329
Hampton Inn, 1030 State Route 17C, 607-687-4600
Pumpelly House, 44 Front Street, 607-687-0510
The Glenmary Inn, 537 Glenmary Drive, 607-687-8819
Sunrise Motel, 3778 Waverly Road, 607-687-5666
Deep Well Motel, 3905 Waverly Road, 607-687-0755
APALACHIN:
Comfort Inn, 7662 State Rt. 434, Reservations 833-690-6799
Showdown Scores:
SHOWDOWN-AUGUST 2021
SHOWDOWN-AUGUST 2020 CANCELLED
SHOWDOWN – AUGUST 2019
Clean Match
Match Final
Scores by Category
SHOWDOWN – AUGUST 2018
Clean Match
Match Final
Scores by Category
SHOWDOWN – AUGUST 2017
Clean Match
Match Final
Scores by Category