5 Stand
What's new with 5 Stand?
It's time for a Fall league. The league will start on the 2nd Tuesday in Oct (10/12/2021).
The first week will be a practice session followed by 8 weeks of what I'm sure will be fierce competition. We will have shooting times at 4pm and 6pm.
I hope to see you all there and if you know of anyone else who may be interested, bring them along.
2021 Fall 5-Stand League @ 4pm or 6pm on Tuesday
* "Indoor" Shooting Venue (so you won't melt in the rain or freeze in the cold)
* Nine weeks starting on 10/12/2021 running through 12/7/2021
* Practice on 10/12/2021 @ 4pm or 6pm
* No Handicap scoring, although you will be shooting against another league shooter each week for points
* Free (1 - round) Fun Shoot / "Chili Dinner by TJ" on 12/14/2021
* League Prizes (dependent on participation)
* $20 League Fee
* $10 / Week Shooting Fee (2 rounds per week)
* Pay Up-Front ($100.00) - Get one week FREE (required, make-ups will be
accommodated between / after league rounds)
* Walk-ins will be accommodated between / after league rounds
Safety is a big factor for us. Eye and ear protection is a must to participate or watch.
Overview: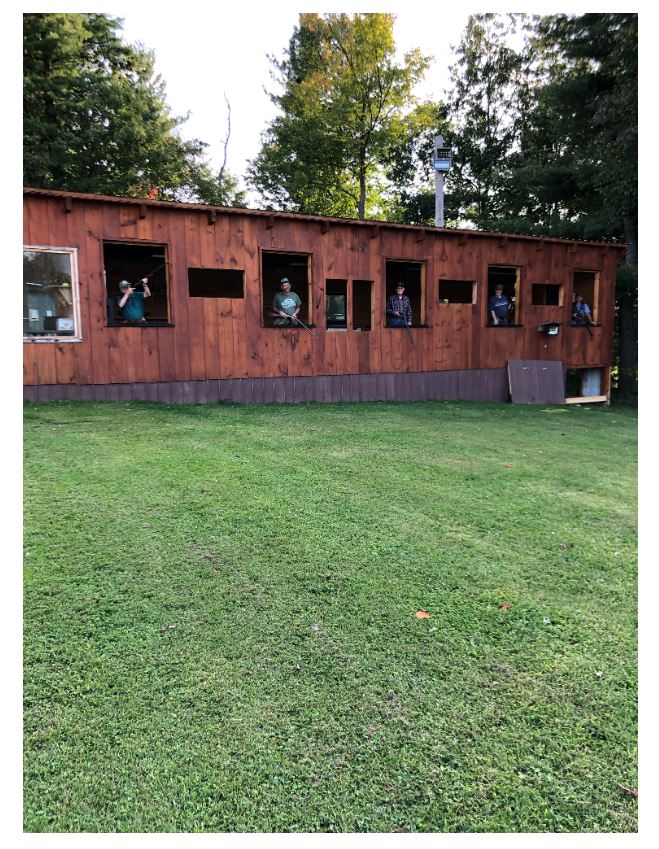 We welcome all shooters young and old, new to expert, members and non-members.""
5 Stand shot-gun shooting is designed to provide all types of simulated small game hunting. It is sometimes called a mini Sporting Clays course.
The game is designed to hone skills from beginners to experts, and most important to have fun.
Shooters shoot from five different stations, and shoot five shots from each station. The targets can come from any direction left, right, front, and back. They can be fast, slow, roll along the ground (rabbit) fly straight up (teal) or you can even shoot two birds as they cross in front of you. Usually there are six to eight different targets to create a variety of challenges. Fees are $5.00 per round
Any shotgun that can shoot two rounds rather quickly, a double, semi-auto, or pump all work well. We have folks that shoot 10 ga to 410s with 12 ga being the most popular. Number 7 1/2 or 8 seem to be the shot size used. I like shooting my 410, I don't hit as many, but I feel real good when I do.
Safety is a big factor for us. Eye and ear protection is a must to participate or watch.
We have skill levels from new shooters to expert, and the good thing is we can all shoot together and have fun. If you choose there are folks that will assist you, or grab your own style, and enjoy.
Anyone wanting more information, or some personal instruction call Jim Gee 607-725-9189 or hit the "Contact Us" link noted at the top of this page.
A good resource on the sport can be found at http://blog.beretta.com/5-stand-when-theres-not-time-for-sporting-clays.